Turkey Track Trail 1/2 Marathon
We woke up early Saturday morning to a little bit a frost on the outside of our tent but, otherwise, a gorgeous bluebird sky day in beautiful Pagosa Springs, CO and set off to find the start of this little impromptu trail race we had just decided to sign up for 3 days ago.
The start, like that of many trail races, was super low key. There's no designated starting line that the fast guys fight to get their toes on, thereby gaining an inch on their competition before the gun even goes off! No, no, in trail racing everyone just sort of congregates leisurely around the general starting area. No one cares to be "that" person out in front of the group so everyone takes a few steps back when the race director looks at his watch and starts the 10 second count-down. And this is why I love this sport. There are no egos (or at least, no
big
ones). You can be the biggest baddest runner out there but you'll be just as cool and down-to-earth as the average runner standing next to you. Maybe it's the fact that we're running in the woods or on a mountain, rather than on the pavement, that sort of humbles everyone. I don't know, but I've always loved the atmosphere at these races. And I love spotting that one old-timer who's still running in that same cotton t-shirt and pair of trainers that he/she's been wearing since the '70s. No technical wicking or lightweight gear, just the tried and true old-school kit that's always worked for him/her. And you know that if you asked them how many races they've run, they could still probably tell you a story about each of the hundreds they've participated in since way before the sport was ever popular. I want to be like them 30 years from now.
Anyways, back to the race. It was awesome! Lots of fun and fast trails that were an absolute delight to run on. The first mile or so (I don't have a GPS watch so I don't really ever know how far along the course I'm at at any given moment, so these are always just my guess-timates) was a nice double track uphill trail that allowed us to get into position easily. Then we turned onto a wide fire-road type of trail that was fast and only slightly uphill so you could start picking up the pace now that the runners were all spread out. Then we turned sharply into the single track trails that were an absolute blast – they curved and wiggled around a lot and, with the exception of an occasional log that you had to jump over or a little rocky section, weren't very technical at all so it was fun to feel like you were flying along. At this point I was running right behind a girl in orange shorts who was keeping a nice pace. At the first aid station (mile 4 or 5), however, she must have stopped while I kept going because that was the last I saw of her or any other woman on the course for that matter. I'm not sure if she was running the marathon or the half-marathon course either.
The single track section did a funky figure eight loop before coming back out onto that open fire road trail for the final few fast downhill miles. I had no idea what place I was in and never even really gave it any thought. I was just out there to have fun and settle into a groove with the trails and the altitude (especially since our trail run in New Mexico the day before had been so rough on my lungs!). This course didn't have any major climbs or elevation gain (I think the course map said 1,000′ vertical gain over the course of the 13.1 miles) so it didn't cause too much trouble with the lack of acclimatization.
When I came across the finish line, the race director congratulated me for finishing 2nd!!! What?! And to make it even better, Ryan also finished 2nd!!! How cool is that and how cool are these handmade medals?!
Ryan also really enjoyed the course and had lots of fun on the single track sections and the first few miles running behind the guy who ended up winning the marathon course (3:24), Jason Koop from Carmichael Training. No too shabby of a finish considering that we both hadn't put in that much running since our return from Nepal where we didn't run once in 7 weeks!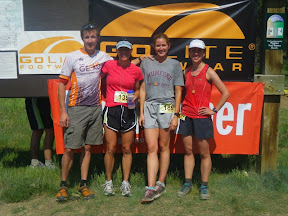 [the Race Director with the top 3 female half-marathon finishers]
[the Race Director with the 1st and 2nd place male half-marathon finishers]