Hello from the beautiful Tetons in Wyoming! Isn't it just gorgeous here?!
We drove over from Boulder to Salt Lake City to pick up a good friend, Paul, coming down from Vancouver for a quick climbing holiday fun in Jackson. Driving through the greater SLC area is anything but nice so we zipped right through town and camped at the Antelope Island State Park in the Great Salt Lake. It was absolutely lovely except for the swarms of biting gnats….needless to say, we cancelled any plans we had of going for a nice sunset trail run around the bay and hid in our tent instead. Too bad.
Since arriving in Jackson, Paul and Ryan have pretty much spent all daylight hours climbing both on Boulder Shield and Rodeo Wall in the Hoback and then also on Guide Wall route on Storm Point in Cascade Canyon in the heart of the Tetons. The insane amounts of snow that Jackson got this winter (something like 700 or 800 inches!) has been slowly melting so just getting to lots of the classic climbs in the Tetons is a bit more involved at the moment with long snowy and icy approaches requiring ice axes and crampons.
Whilst the boys have gone climbing, I have hit up the trails for some absolutely gorgeous trail runs in the Tetons.
Bess (who's training for her first marathon! Yeah!), Liz and I ran along String and Leigh Lakes for 10-ish super fun miles on a perfect day. There was no chance we'd have any bear encounters with the amount of talking we were doing on the run!!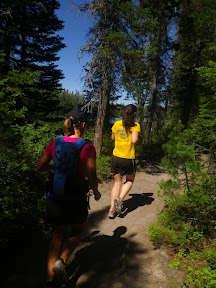 The next day, while Liz and another friend, Lauren, went out for a long cycle, I strapped on my trail shoes again and set off with my bear bell for a 3-hour solo run around Taggart and Bradley lakes and then up Garnet Canyon until I hit the snow line. The three hours went by so quickly as the views running towards the Tetons were stunning…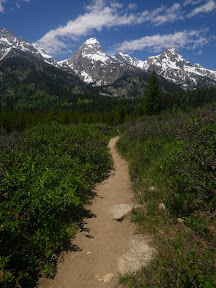 And the views of the lakes and valley from the switchbacks on Garnet Canyon were just breathtaking:
I absolutely love this place and felt so happy to be here again, running some of the trails that I have hiked so often before.
Sunday's adventure was a trip down the whitewaters of the Snake River with some of our local Jackson friends! The 9 of us jumped in a 16′ barg-like raft and hit the raging river with our friend Chris as our guide.
The water on the river is super high and fast at the moment because of all the snowmelt plus there's a new rapid due to a recent landslide into the river, so we were certainly treated to a thrilling ride!
Chris did a fantastic job of steering us well into each rapid with lots of yelling and cries to "dig deep!" and paddle at battle-ram speed! It felt like we were charging into a head-on battle with the waves!
It was seriously fun to get some lift every now and then! And with the exception of one of our crew members who was catapulted out of the raft mid-rapid, we managed to stay upright and win the war against the waves!
And finally, I finished off the 4th of July weekend with a lovely little trail run in the Teton Valley with Liz and Lauren (who's a badass for having just finished her first Ironman triathlon in Coeur d'Alene just one week ago!!!)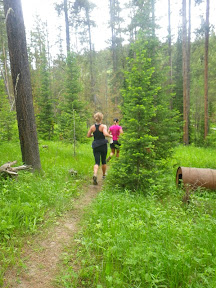 And the best part of all is that we're coming back to the Tetons for round 2 of summer fun in about 6 weeks! Yehaw! Life just doesn't get any better than this!