Rugged.
If I had to describe the course in one word, that would be it.
On 7 AM on Saturday, 64 people (22 women) toed the typically chill starting line drawn in the dirt to run 50 kilometers (31 miles) through some seriously rugged terrain, including 7,000 vertical feet of climbing (plus another 7,000 feet of descent). The course led us over rocks, through streams and across open meadows all over the Elkhorn National Forest just outside of Helena, Montana.
The course reminded me of a mix of the NFEC Bear Mountain 50K and the unsupported 50K race we ran in the Adirondacks in July 2009 called The Damn Wakely Dam. In other words, it was tough! Sections of the course were strewn with fist-sized rocks a la Timp Pass from the Bear Mountain race (each rock beckoning to trip you, twist your ankle or at least inhibit your attempts to move swiftly and gracefully across them). Soggy feet were inevitable as the course became a stream in a several spots. Some sections of trail were vague and others non-existent as you had to run through thigh-high grasses and thistles searching for orange flagging across a meadow.
Speaking of flagging, the course was sufficiently marked with orange duct tape (so the cows/deer/elk wouldn't eat it!) but you definitely had to pay attention and heed the race director's advice "know thy course". At the pre-race dinner the race director went over the course thoroughly and we took notes on maps that we stashed in our pockets during the race "just in case".
From the start, the female runner who won took off and I had a feeling that this was how the race was going to finish. A few aid station volunteers along the way updated me on her position as I came through in 2nd and while I did manage to close the gap between us from about 12 minutes to 8, catching her wasn't my goal. Given the terrain of the course, I wanted to finish it in under 6 hours. I came through what I estimated was about half-way in a little over 3 hours so I focused on digging deep and finding that hidden "something" to bring me back within my goal time, especially since I knew the toughest climb (and descent) of the course was still to come. I focused on powering up the big rocky climb starting at mile 19 anticipating that the descent would been harder for me. I gave myself a boost with each runner I passed on the uphill (all of whom were in the 23K race) and opened up enough space that I tackled the descent alone and ran it very ungracefully in solitude. While I hounded myself for my sloppy form I was relieved to hear from Ryan after the race that it had been just as ugly for him.
Once I hit the final aid station the volunteers happily told me that the finish was only about 2.5 miles away. Ok, I told myself as I looked at my watch, you've got 23 minutes to make your goal time. So I dashed off as swiftly as my aching legs could take me. Either I learned to fly in those last 2.5 miles or the finish was actually a bit closer than they had told me because I crossed the finish line within 16 minutes with a total time of 5 hours 53 minutes. Finishing 2nd woman was pretty fun but I think I was most surprised to find out that I finished 8th overall – it's always fun to beat most guys! Especially while wearing a skirt and pink socks ;-)
During the race, as I came through each aid station I checked on runner #82's progress. It seems that Ryan must have made quite an impression on all the volunteers as they all knew him as "that Scottish guy" and updated me on his position (2nd overall for the first 14 miles and then 3rd) and condition ("hurting but moving quickly"). I laughed as that's pretty typical of Ryan: lots of pain but crazy fast. Anyways, I was continually pleased to hear that he was still in the race (given his perpetual battle with his ITB/knee) and his top position was an exciting bonus.
Crossing the finish line, as it always is, was wonderfully rewarding. I was congratulated with a hand shake by the race director, a few licks by some friendly spectating dogs and a sweaty hug from Ryan who immediately handed me the best post-race treat: a beer! We sat down in the dirt by the finish, exchanged war-stories with fellow runners and cheered on those who were coming across the finish line. A great ending to a great day running in the mountains!
Here's a picture of the nice hand-drawn finishers' poster and our elk hoof awards: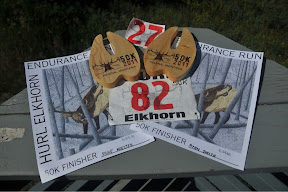 Oh and one more thing: next time you're looking for some inspiration or motivation to hit the trails, try something new, or challenge yourself you should know that one of the 63 finishers of the 50K was an 84-year-old man! He finished in 11:24 and no, he was not even last! Now that's something to admire!!!!!!!