The Grand Teton: The most striking peak of the American Rockies. Since the first time I laid eyes on her I daydreamed of what it would be like to climb to her summit. She intrigued me and captivated me. Mountains have a way of getting into your heart. Well, six years later, I stood at the top. It was one of the most amazing things I've ever done.
At 3:00AM on Saturday August 13th, six of us groggy climbers set off into the dark unknown from the Lupine Meadows trailhead. We had over 18 miles and 14,000ft of elevation change ahead of us. Our feet and packs felt light and we eased into a quick and eager pace up the switchbacks. But before I get any further let's start off with a before-and-after picture and then I'll fill in the gaps of the 20 hours in-between.
The much anticipated start:
The sweet, sweet end:
Much like in ultra running, there is something magical about moving in the dark with only an illuminated spot a few feet ahead of you. Time and distance are warped and the only gauge of your quick uphill progress is your rapid heart-rate. And as you look back you only see a train of bobbing headlights in the blackness behind you. We weren't alone on the trails; we passed a couple of small groups also bound for the Grand and a few pairs of climbers on their way down, who apparently had a longer day than even we were (unknowingly) going to have.
When we hit Garnet Canyon the full moon was shining brightly behind us making the granite rock and snow sparkle and glisten ahead. We plowed through the canyon for a few hours over boulder and snow fields up, up and up, until we finally came to the lower saddle by daylight and enjoyed our first peek over into the Teton backcountry and Idaho to the west.
A bit of scrambling followed as we made our way from the Lower Saddle up onto the mountain to where we would start the climb.
At 9AM we got nice and comfortable on the wide ledge at the start of "Wall Street". We put on our harnesses, shoved our cold feet into our tight climbing shoes, split into two groups of three, fed out the rope and tied on. The morning weather looked fantastically clear, it was time to climb.
Wall Street starts off as a friendly wide ledge and then tappers off into, well, nothing. The first technical move of the day involves stepping around this nothingness. The trick is to not look down.
Whew! The rest of the climb along the Upper Exum Ridge was nothing short of incredible. Overall, the climbing is not super difficult in theory, but there's nothing like a little exposure along the way to get your heart thumping. Climbing on a mountain, like running on trails, is a whole different beast from climbing in an indoor gym or even on a single-pitch crag. Where a 10 min/mile is considered a slow running pace on the road or treadmill, on trails can seem impossibly fast.
Sections of the climb, like the Golden Staircase, were fun and fast. Others, like the Friction Pitch, definitely raised my anxiety levels. And a few moves towards the top revealed a level of determination and strength that I didn't know I had.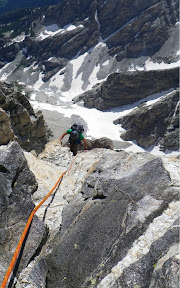 I can't remember how many pitches there were but it must have been around a dozen. Ryan led on our rope and then Ben and I simul-climbed after him. I could not have asked to be tied to two better people on a mountain. Ryan, as always, was a calming presence. He led every pitch with confidence and ensured our safety every step of the way. Ben encouraged me when my palms got sweaty. It was so nice to have someone to talk with while I was climbing when Ryan was out of sight and sound!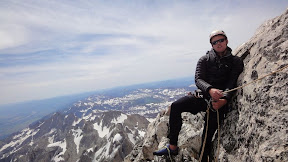 After a tricky lieback move on the final pitch we crested onto the knife-edge ridge and then the final scramble to the summit. I think we were all relieved to see the top! It was now 3PM, we had been climbing for 6 hours!
Everything about reaching the summit was amazing. The weather was completely still with bright blue skies as far as the eye could see. The view was unreal. The sense of accomplishment was empowering. What a great moment to be alive!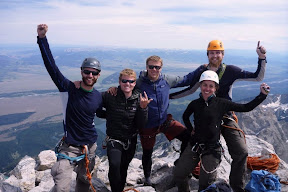 But reaching the summit is only half-way to achieving our main objective. It was time to tackle the descent.
Chris, who was the only one of the group to have climbed the Grand before, led us down a short scrambly section to the first of two rappel points. The 70m absails were intimidating, especially since this was the first time several of us were rappelling off a mountain side seeing thousands of feet of empty space below.
One by one we lowered ourselves down. Lauren, in particular, made it look pretty badass: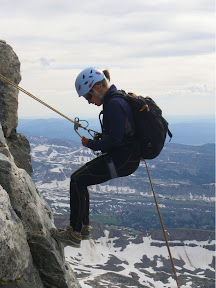 We were excited to be done with the technical sections now!
Just a few hours of more down scrambling and climbing back to the lower saddle…
From the lower saddle down we went down through the boulder and snow fields to The Meadows and then the trail. It took an exceptionally long time. Our feet were sore and our minds were exhausted. The sun began to set and we turned our headlamps back on at the same spot where we had turned them off 16 hours ago. Down and down and down. We rejoiced when we hit the earthy trail but then it just went on and on for what felt like an eternity. The final hike out after a long day on a mountain is brutal. Those last 5 miles felt like 50 and even though we were hiking quickly, the minutes crawled by. Our feet screamed, our quads hurt, our eyes were tired and our brains were fried. Despite the fatigue, at hour 20 as at hour 3, everyone was in good spirits. It was clear that we were a group of ultra runners, ironman triathletes, and mountaineers because this was the essence of endurance.
Finally, we made it to the finish. I think this picture captured the exhaustion perfectly:
On Sunday evening we gathered for a delicious dinner on the porch with the Grand in the background. We ate and laughed until our bellies ached. A perfect wrap-up to the adventure and a perfect "grand" finale to Ryan and my Rocky Mountain Road-trip.
To Chris, Lauren, Brad, Ben and Ryan: you guys rock, literally! :-)